History, Art and Architecture

Pescocostanzo (1400 above sea level) features a historical centre perfectly preserved and rich in art and architectural treasures of outstanding beauty.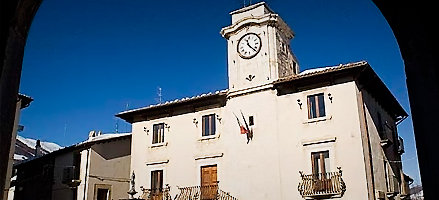 A small town in Abruzzo, which flourished during the Renaissance, it has been for centuries the breeding ground of an original and cosmopolitan artistic production always keeping a close contact with the chief protagonists of the cultural movement during the 17th and 18th century. The historical presence of an enlightened ruling class and favourable economic an cultural conditions have allowed for an alternating of great personalities in the artistic and literary field such as Cosimo Fanzago, a prominent sculptor and architect of the European Baroque, Tanzio da Varallo, a refined painter of the school of Caravaggio, and Ottavio Colecchi philosopher and mathematician.

Historical-artistical itinerary

1. Colecchi Palace (17th century)
2. Fontana Maggiore (18th century)
3. De Capite Palace (18th century)
4. Mansi Palace (18th century)
5. Town Hall (18th century)
6. Fanzago Palace (former Monastery of Saint Scholastica) (17th century)
7. Church of San Nicola (17th century)
8. Church of Santa Maria del Suffragio dei Morti (17th – 18th century)
9. Collegiate Church of Santa Maria del Colle (16th – 17th century)
10. Church and Convent of Gesù e Maria (17th – 18th century)